Soothing Your Fears
Modern dentistry shouldn't be painful. At Blockhouse Bay Dental Centre, we strive to make sure that your visits are comfortable for you. We also believe your dental care shouldn't be stressful, and our philosophy is geared towards giving you a pleasant experience. You should never feel scared to seek care or get the treatment you need. Sometimes, people may feel reluctant to discuss their oral health. We're sensitive to these issues and want to build your confidence while lowering your stress level.
Forget Your Negative Experiences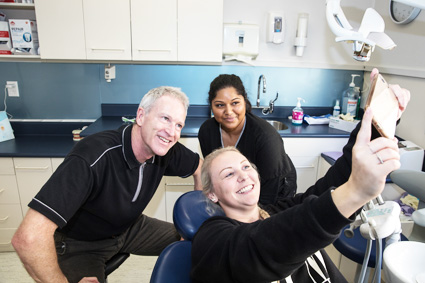 Most people feel apprehensive about going to the dentist because they have had a negative experience. We understand your concerns and work in partnership with you to overcome them.
We spend our time getting to know you, listening to your concerns and won't start any work until you feel ready.
With our approach, we'll listen carefully to you and watch for any signs of discomfort, stopping straightaway if you want us to. We'll speak with you before your procedure and agree that you'll signal with a raised hand if you want a rest, rinse or to talk to us. We'll observe you to ensure that you feel good during the procedure. We want you to be in complete control each step of the way.
A New Kind of Dental Care
Our practice isn't like any other dental clinic you've been to. After you have been welcomed by our friendly receptionists, you can relax by reading our wide range of the latest magazines, or be entertained and educated by our humorous 'Channel D' dental videos. The extras that we provide our patients include aromatherapy, and your choice of music and television while you relax in our comfortable, modern chairs.
You can also enjoy the changing exhibition of photographs from around the world taken by Dr Peter Raymond .
During the procedures, we utilise topical anaesthetic, and injections are only given when it has taken effect. You'll be completely numbed for a virtually painless injection.
Dental Phobia vs. Fear
Dental phobia isn't the same as a fear or anxiety. A phobia is shown through avoidance behaviours, where you'll do anything to avoid going to the dentist. Dental treatment will have to be confronted eventually. You know that your response seems irrational, but you feel unable to make a change. You may feel signs of a panic attack such as nausea, heart palpitations and fainting.
If this sounds like you, we recommend that you contact our Blockhouse Bay practice and explain it to a member of our team. We've encountered many such phobias before and can help you.
How Can we Help?
Contact us today! We can book you in for a simple chat, no treatment necessary, to get you used to the idea of dental care. Same-day visits are available if you'd like to get in straightaway.
---
Blockhouse Bay Dental Centre | 09 627 9970