Specialty Services at Blockhouse Bay Dental Centre
Do you suffer from excessive snoring, sleep apnoea or nighttime teeth grinding? We want to help.
In order to provide patients with the absolute best care possible, we're happy to extend our dental services beyond mere general and cosmetic procedures. At Blockhouse Bay Dental Centre, our dentists have unique training in specialty services that can offer focused relief for a variety of conditions.
Snoring and Sleep Apnoea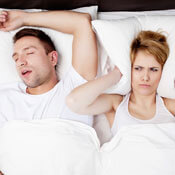 Did you know that millions of people just like you deal with excessive snoring or obstructive sleep apnoea each night? More so, it's not just the person with the condition that's affected-their partner also has to deal with the consequences.
Sleep apnoea ranges in severity but can cause serious complications including loss of sleep that may begin to affect your qualify of life. Thankfully, there is a non-invasive option that we can assist you with.
Read more about snoring and sleep apnoea treatment here >>
Teeth Grinding
Did you know that your teeth should only touch during meal times?
Teeth grinding, also known as bruxism, affects nearly 50% of adults and even 15% of children. If left untreated, your teeth can be seriously damaged and may even require costly treatments for repair.
Read more about treatment for teeth grinding here >>
Discover How We Can Help
We have state-of-the-art equipment and materials and we are always thinking outside of the square to find ways of improving your dental experience. Most of all, we listen and never stop listening; your feedback is central to our drive to earn your trust.
Interested in learning more about how our team can help you? We'd love to invite you to make an appointment with our practice today. We look forward to meeting you and devising a care plan that exceeds your goals.
---
Specialty Dental Services Blockhouse Bay, Lynfield, West Auckland, Titirangi, Green Bay, New Lynn | 09 627 9970