Dr Peter Raymond, BDS
Dental Qualifications and Associations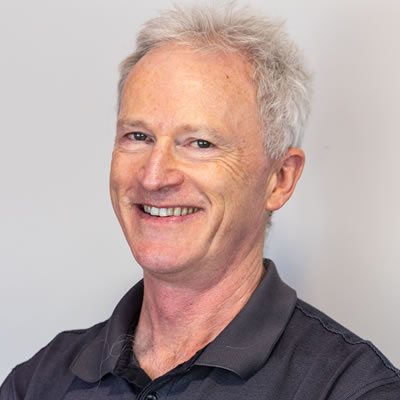 With a want to help others and an interest in entering the medical field, dentistry was a perfect fit for Pete. Observing his own dentist carefully as a child led him to later consider it as a career. He earned a Bachelor of Dental Surgery in 1986 from the University of Newcastle-Upon-Tyne. Afterwards, he was selected to undertake hospital training, offered to the best in the class.
He later became a dental house officer at the Newcastle Dental Hospital and completed further training in oral and maxillofacial surgery in the Sheffield and Leeds teaching hospitals.
Pete moved into general practice in 1989. He's dedicated to continuing his education by attending regular courses to pursue new skills. The many topics he has studied include pain-free dentistry, customer service and digital dentistry, having travelled all over the world to complete these courses.
He's a member of:
Relocating to New Zealand
Pete made the move to New Zealand over 30 years ago when he visited and fell in love with the adventurous side of life here. He's passionate about travelling, and you'll see testimonials to his many destinations in photographs around the surgery.
He enjoys the physical and mental challenge of exploring, with his conquests including climbing Aconcagua (6900m) Mt. Cook, Mt Aspiring, and in 2004 Mt Pumori (7145m) in Nepal. Another highlight was going to Patagonia and Antarctica, where he climbed Mt Vinson (4892m), the highest in Antarctica.
Pete is also a passionate photographer having started this hobby over 40 years ago. He has a special interest in wildlife  and wild landscape photography, the results of which can be seen in the ever changing exhibition at the practice.
Along with experiencing new cultures, Pete likes to try different cuisines or make new foods in his kitchen (preferably with a good amount of spice!) Fitness is important to Pete, and he enjoys staying active. He's a sponsor of a local bowling club, and Lynfield College .
---
Blockhouse Bay Dental Centre | 09 627 9970