Dental Fillings at Blockhouse Bay Dental Centre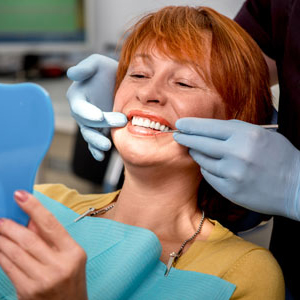 At Blockhouse Bay Dental Centre, we provide our patients with a range of options when a filling is needed to restore the health of a tooth.
Whether you'd like a tooth-coloured filling, the traditional amalgam or another material, we'll discuss all the options with you so that you can decide how you'd like to proceed.
The Advantages of Amalgam
Amalgam fillings were the standard for decades. They are created from a mixture of metals and became controversial for containing mercury.
Some people are hypersensitive to amalgam, but it is rare, and there is no direct evidence that it is harmful to your health. These fillings are simple to place and are low cost. We very rarely place amalgams as there are superior materials now available.
Choosing a Tooth-Coloured Filling
White fillings can be chosen in the same shade as the rest of your teeth for a seamless look. This type of filling adheres strongly to the tooth and requires little of the existing structure to be taken away. You'll be able to eat and drink as usual immediately following your procedure. In most situations, white fillings will last for as long as a silver filling.
Ceramic Fillings: These tooth-coloured fillings are made of glass ceramics like e.max® and Empress. Impressions are required, and the cost is higher than other options, but it is the strongest and most long-lasting of all the available materials.
Glass Ionomer Fillings: Glass ionomer is a particular type of filling that is only applicable in certain situations. Often applied at the root level, a strong chemical bond is involved. They don't look as aesthetically pleasing as composites and aren't as durable, so the use of these fillings is limited.
Gold Fillings: Used since 3000 B.C., gold is one of the best materials available. The technique is more complicated and requires impressions be taken of your teeth. It is a more expensive option but still preferred by many people today.
Replacement Fillings: Your dental fillings can wear away, crack or chip from grinding, clenching or chewing. If we identify a weakness in your restoration, it may be necessary to replace the filling. Left untreated, the seal between the tooth and the filling breaks, allowing bacteria and food to enter and cause decay.
Request an Appointment
Contact us today to book an appointment for fillings Blockhouse Bay! Payment plans are available with 0% financing.
---
Dental Fillings Blockhouse Bay, Lynfield, West Auckland, Titirangi, Green Bay, New Lynn | 09 627 9970