Crowns and Bridges at Blockhouse Bay Dental Centre
The team at Blockhouse Bay Dental Centre offers a broad range of dental solutions that can restore your smile. If your teeth have large fillings, are broken down or you have teeth that are missing, we can assist you. Our crowns and bridges are made of high-quality materials so that you can be assured they'll last for years to come with the proper care.
Dental Crowns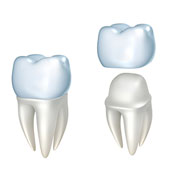 If you have a tooth that has been broken down or contains a large filling, a crown can dramatically improve your smile's appearance and your oral health.
We have IPS e.max® ceramic or porcelain crowns available. IPS e.max crowns look beautiful, matching existing teeth perfectly with great strength and durability and no white line showing at the gum line. The cost involved in an e.max crown is about $1650.
Porcelain crowns look completely natural and are created from a core of metal alloy fused to porcelain for significant strength. You may see a thin line of metal on the inside surface of your crown by the gums.
Dental Bridges
A bridge replaces missing teeth, filling in the space by being anchored to neighbouring teeth, suspending a fake tooth into the gap. It's strongly cemented into place. The types of bridges we provide include conventional bonded porcelain bridges, cantilever bridges, adhesive bridges and metal-free bridges. We'll explain your choices and the benefits of each option, guiding you in discovering the right option.
What to Expect
At your first visit, we'll examine the area to make sure that a crown or bridge is right for you. The teeth are them prepared to receive a crown or bridge. We'll take great care in selecting the colour match and characterisation details so that the restoration fits in perfectly with your natural teeth. Impressions will be taken, and you'll receive a temporary crown or bridge to wear while yours is being fabricated at the laboratory. If you're receiving a crown, we can create it on the day with our Planscan E4D technology.
If you're getting a bridge, 7-10 days later, you'll return so that your permanent bridge can be cemented into place.
Have Questions?
Contact us today to book your consultation for crowns and bridges Blockhouse Bay! Late opening hours are available and we there is plenty of free parking nearby for a convenient experience.
---
Dental Crowns and Bridges Blockhouse Bay, Lynfield, West Auckland, Titirangi, Green Bay, New Lynn | 09 627 9970