Minor Laser Surgery at Blockhouse Bay Dental Centre
Discover the latest revolution in dental care: laser dentistry. It has the power to make your appointments something you may have never experienced before: completely painless! Available at Blockhouse Bay Dental Centre, you can take advantage of laser dentistry that eliminates the need for needles, scalpels and stitches.
Our diode dental laser can treat a range of soft tissue conditions that previously could only be addressed with traditional surgical measures. Compared to surgery, the laser is safer, less invasive and doesn't cause damage. It also gives superior sterilisation and can kill off bacteria, allowing for greater safety and a quicker recovery.
Why Choose Laser Dentistry?
Laser-based treatment is a comfortable alternative to the traditional methods because less anaesthesia is required. After your procedure, you'll have minimal to no discomfort. With no stitches or cutting, you won't have swelling, pain and can enjoy quicker healing. If you have felt anxious before about dental treatment, you can put your apprehension aside thanks to laser dentistry.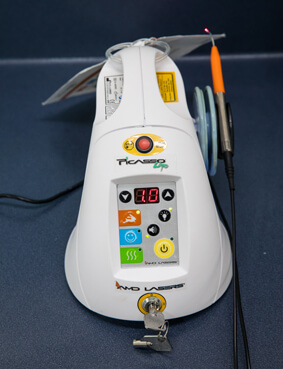 Lasers are highly precise while being gentle, making them one of the most revolutionary tools within dentistry. As it's minimally invasive, it's appropriate for a broad range of procedures:
Periodontal disease
Root canal treatment
Cosmetic gum lifts
Removal of soft tissue and excision biopsies
Healing of cold sores and ulcers
Relief of tongue ties
Dark gum areas
An Excellent Safety Record
Our dental professionals are trained in the safe, effective use of a laser. There are fewer risks than when a drill or scalpel is used. Since the laser is accurate, you won't have to worry about the collateral damage that can be involved in traditional surgery. The intense light of the laser boosts your healing power.
Book Your Appointment
If you're interested in treatment using our minor laser surgery Blockhouse Bay, contact us today! We'll get you booked in for a consultation and determine the best way to proceed to meet your needs. Saturday bookings are available, and we're open late for your convenience.
---
Dental Laser Surgery Blockhouse Bay, Lynfield, West Auckland, Titirangi, Green Bay, New Lynn | 09 627 9970