Dental Implants at Blockhouse Bay Dental Centre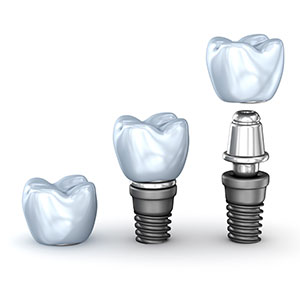 As one of the most innovative developments in the dental field in decades, dental implants are an excellent option for those seeking to replace a missing tooth or several missing teeth.
At Blockhouse Bay Dental Centre, we work closely with an experienced implant surgeon who places your implants. Once completed, we can design and create the restoration for your implant, whether you choose a crown, bridge or denture.
Frequently Asked Questions
The dental implant refers to a post that acts as the root of a natural tooth. It is inserted into the jaw and provides as an anchor for a crown, bridge or denture to be affixed to it. Implants can address a single missing tooth, multiple missing teeth or all missing teeth.
Does a dental implant look like a natural tooth?
One of the greatest advantages that dental implants offer is that they look and feel entirely natural. Your implants are customised to you so that they complement your face and any remaining teeth while providing the support your facial muscles need. Those who have tried to wear dentures and found them to be ill-fitting are pleasantly surprised at how much easier dental implants make their life.
Can you eat any foods you want with dental implants?
When you get your dental implants, you'll love that you can use them just like natural teeth. You'll be able to eat any foods you want, even if you had to avoid certain ones with your dentures. With the design of a dental implant, more of your taste buds are uncovered, which makes your meals more pleasurable.
What happens during the process of getting a dental implant?
Your implant will be surgically placed into your jawbone by our experienced surgeon. Some months (usually three) are necessary to let the site heal, during which you can receive a temporary denture. After the appropriate time has passed, you'll have an appointment with our team. We'll take impressions of your mouth and create models from them to fabricate your restoration.
A crown, bridge or denture is then created to exact specifications. When it has been returned to our practice from the laboratory, you'll return to have it fitted. We'll check the fit of your restoration and make sure that you're satisfied, as well as advise you on how to care for your dental implant.
Does the ACC cover dental implants?
If your implant is required as the result of an accident that you were involved in, the ACC covers a significant portion of the fees for dental implants.
Want to Learn More?
Contact us today to learn more about improving your smile with restorative implants Blockhouse Bay! Payment plans are available with 0% financing.
---
Dental Implants Blockhouse Bay, Lynfield, West Auckland, Titirangi, Green Bay, New Lynn | 09 627 9970